HVAC/R Protective Coatings
Extreme Performance Coating System for HVAC/R Equipment
ADSIL MicroGuard® AD35 HVAC/R Coil & Fin Clear Protective Treatments are designed for use on heating and air conditioning equipment; coils, fins, tubes, and fans. These products can be installed on units before installation or on previously installed field units with equal success.
ADSIL MicroGuard® HVAC/R protective treatments retard corrosion on the non-ferrous metal fins and tubes, thus, extending the life of the equipment asset and helping to maintain good air flow efficiencies.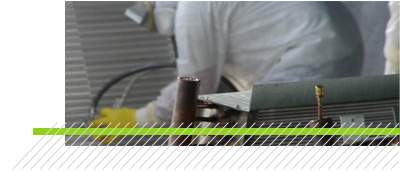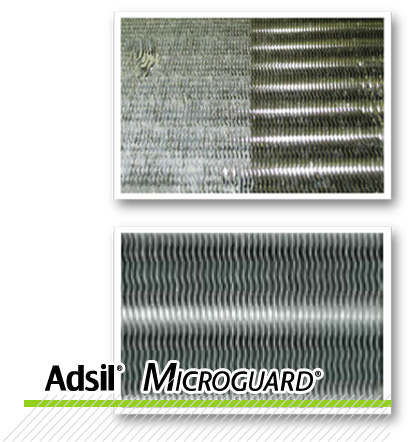 Protect
This treatment enhances surface performance, keeps the unit clean and does not require the use of corrosive coil cleaners that can compromise coil integrity. It will not support the growth of mold on the evaporator & condenser coils, thereby improving indoor air quality (IAQ). It provides improved energy efficiency; averaging up to 15% reduction of energy consumption over the life of the unit.
Preserve
ADSIL MicroGuard® Treatments are inorganic, cross-link cured, glasslike surface treatments that chemically bond to non-ferrous metal surfaces, which ensures maximum corrosion protection of your valuable asset.
Prolong
ADSIL MicroGuard® Treatments help prolong the life of your HVAC/R unit past its normal life expectancy and thereby extends the replacement cycle and capital budget outlay.
PRO-CLEAR - Protective Coating for Casings:
For industrial and commercial use as a high performance protective maintenance coating for industrial plants and equipment, commercial buildings, HVAC equipment, and marine structures. For coating and protecting storage tanks, piping, roofs and roof decks, water towers, structural steel, machinery, plant equipment, marine vessels, offshore structures, transportation equipment, HVACR outdoor equipment and other surfaces exposed to humidity, chemicals and corrosive environments.
Pro-Clear Polyurethane Enamel offers excellent protection in exposures including moderate to severe industrial, commercial and marine environments. Excellent abrasion and moisture resistance. Exceptional gloss and color retention on exterior exposure.